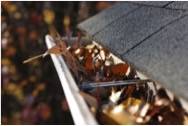 Part of mosquito control is source elimination. Clogged gutters that do not properly drain are a major mosquito breeding site. Mr. Mister is now offering annual gutter cleanings. This also includes all clean up and disposal of debris that is removed from the gutter.
We have invested in the most advanced gutter inspection and cleaning system in Atlanta. No more ladders damaging your gutters and roof. We are able to do a visual inspection of the roof and gutters from the ground with our remote camera while conducting all gutter cleaning from the safety of the ground.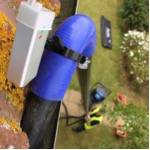 Mosquitoes thrive in environments such as gutters, with standing water and decaying foliage. Getting rid of gutter debris in the Fall and Spring helps to eliminate colonies of mosquitoes from incubating just outside your home. Mr. Mister Technicians are insured, thorough, and trustworthy – providing the same level of care with your gutters as they do treating your yard for mosquitoes.
Benefits of gutter cleaning include:
Foundation damage and flooded basements

Rotten wood

Landscape Destruction

Mold growth
Get A Quote Today! or Call Us At (404) 941-0720