Out and about this summer? Two mosquito control solutions from the experts.
So you have invested in making your yard mosquito free. Great decision! You're getting all the benefits of Mr. Mister's top-notch mosquito control solutions. You can enjoy dinner on the patio, playing on the swing set, and swimming in the pool. There's not a single worry about the threat of mosquitoes ruining the fun. But what happens when you have to leave your protected bubble?
Children go to summer camps. Families visit parks that don't use Mr. Mister Mosquito Control. (We actually protect many Atlanta parks.) People of all ages enjoy going for a hike in the woods. With all these fun summer activities, you are bound to encounter the pesky mosquito. What can you do to protect yourself and your family in these scenarios? We have evaluated the mountain of information on the topic of mosquito control and make our recommendations here. You really have two options:
Bug Spray
Wearables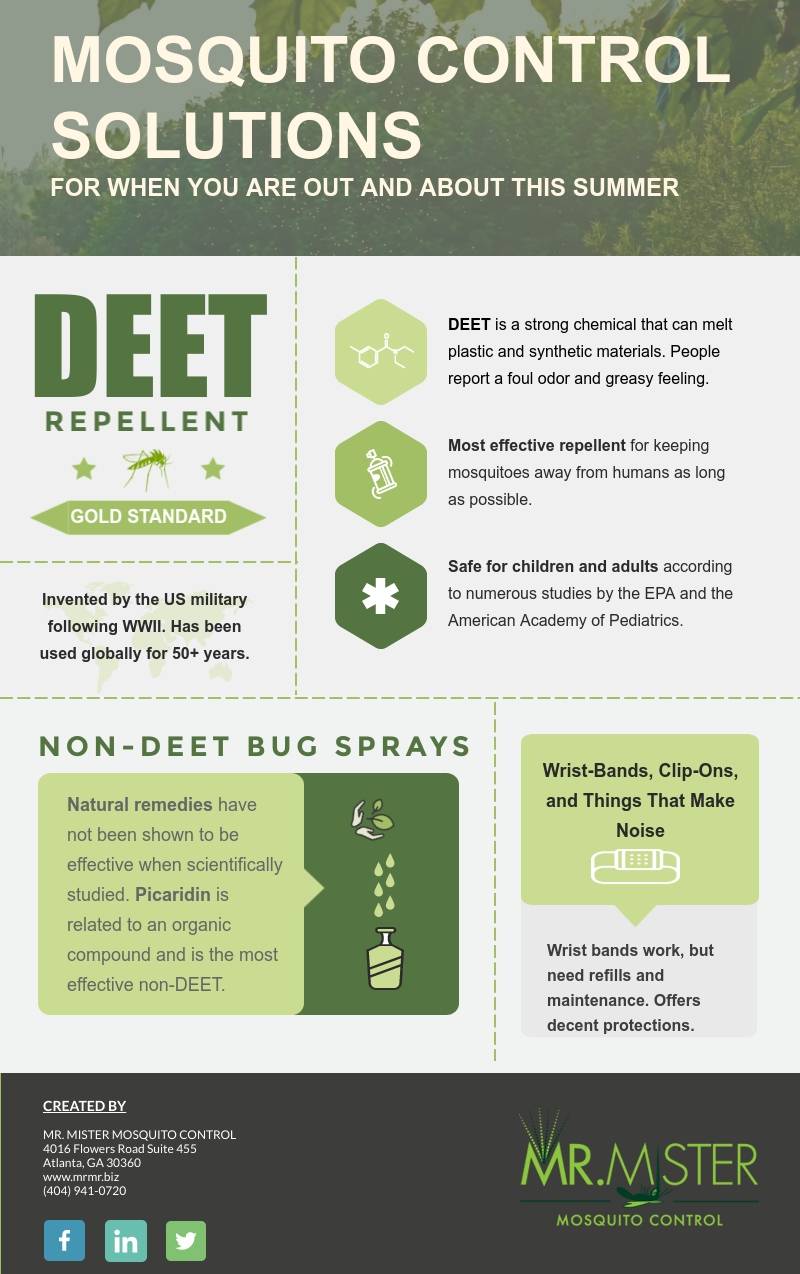 DEET-Based Bug Sprays
The gold standard for mosquito repellents is DEET. DEET is a man-made product that is used in many insect repellents. Interestingly, scientists aren't certain why DEET works. It doesn't kill the insects, it just repels them. But DEET has been in use for over half a century since its invention by the U.S. military. It has a long history of effective use, but also many reports of unpleasant side-effects.
DEET is fraught with controversy and side effects. DEET is a powerful chemical, and DEET products can actually melt plastic and synthetic fabrics. Overuse can cause skin and respiratory irritation. It also smells bad and feels greasy. However, when used as directed, products containing between 10% to 30% DEET have been found safe for use on children and adults by the American Academy of Pediatrics. However, the AAP recommends that DEET not be used on infants less than two months old.
Of the DEET-based products, we recommend Off Deep Woods Sportsmen II. This is a 30% DEET product that has been shown to last up to 8 hours.
Non-DEET Bug Sprays
Many non-DEET products do a good job of repelling mosquitoes, too. Our research shows that Natrapel is the most effective of the non-DEET insect repellents. The active ingredient in Natrapel is Picaridin. Picaridin is a synthetic compound developed from a plant extract. Studies have shown picaridin to be as effective as DEET in repelling mosquitoes. Unlike DEET, however, picaridin is odorless, non-greasy, and does not dissolve plastics or other synthetics.
There are also many natural insect repellents available. These products generally contain different natural oils and vary significantly in their effectiveness. The natural product with the best reviews is Repel Plant Based Lemon Eucalyptus. The active ingredient is oil of lemon eucalyptus. Claims are made that it lasts up to 6 hours. However, natural repellents can't compete with DEET and Picaridin.
Wrist-Bands, Clip-Ons, and Things That Make Noise
Fear of mosquitoes (and mosquito repellent) has sparked a whole industry. Many companies have created wearables that they claim are the best thing since sliced bread. There are wrist-bands, sonic noise makers, patches, and clip-ons. A couple of these products do a decent job of repelling mosquitoes, but most of them are a complete waste of money. Many of the products also require batteries and refills.
Acta Tropica Journal conducted a thorough review of 7 of the most popular of these products. Their research determined that only the clip-on personal protectors offered any protection at all.
One of the clip-on devices (OFF!® Clip-On) contains Metofluthrin, a chemical that is even more toxic than DEET. While their home mosquito control is not up to par (see our blog article on mosquito control companies vs. pest control companies), the only product that we can recommend from the study is actually made by Terminix, a general pest control company. The Terminix ALLCLEAR® Sidekick clip-on contains active ingredients made from natural oils. However, this product requires battery changes and oil refills.
All of these devices function by spreading repellent in the air instead of on your skin. But dense swarms of mosquitoes may overwhelm devices that spread repellent in the air.
What Mosquito Repellent Works Best?
Our conclusion is that if you have to leave your Mr. Mister mosquito-free zone, you are best off wearing some kind of synthetic repellent. The next best thing is a natural repellent, and coming in dead last are wearables. Some wearables do a little, but they are far less effective than old-fashioned bug spray.
If your yard is not a Mr. Mister mosquito-free zone, contact us today to get your free quote. Don't deal with mosquitoes around your home. Mr. Mister can banish them once and for all.