Why A Mosquito Control Company?
We are often asked by Metro Atlanta mosquito victims, what makes Mr. Mister Mosquito Control different from general pest control companies? They may already have someone who takes care of pests like cockroaches and ants, so why add a mosquito control company?
Our answer is the following: "While a family practitioner is incredibly important, you wouldn't use your family practitioner for heart surgery."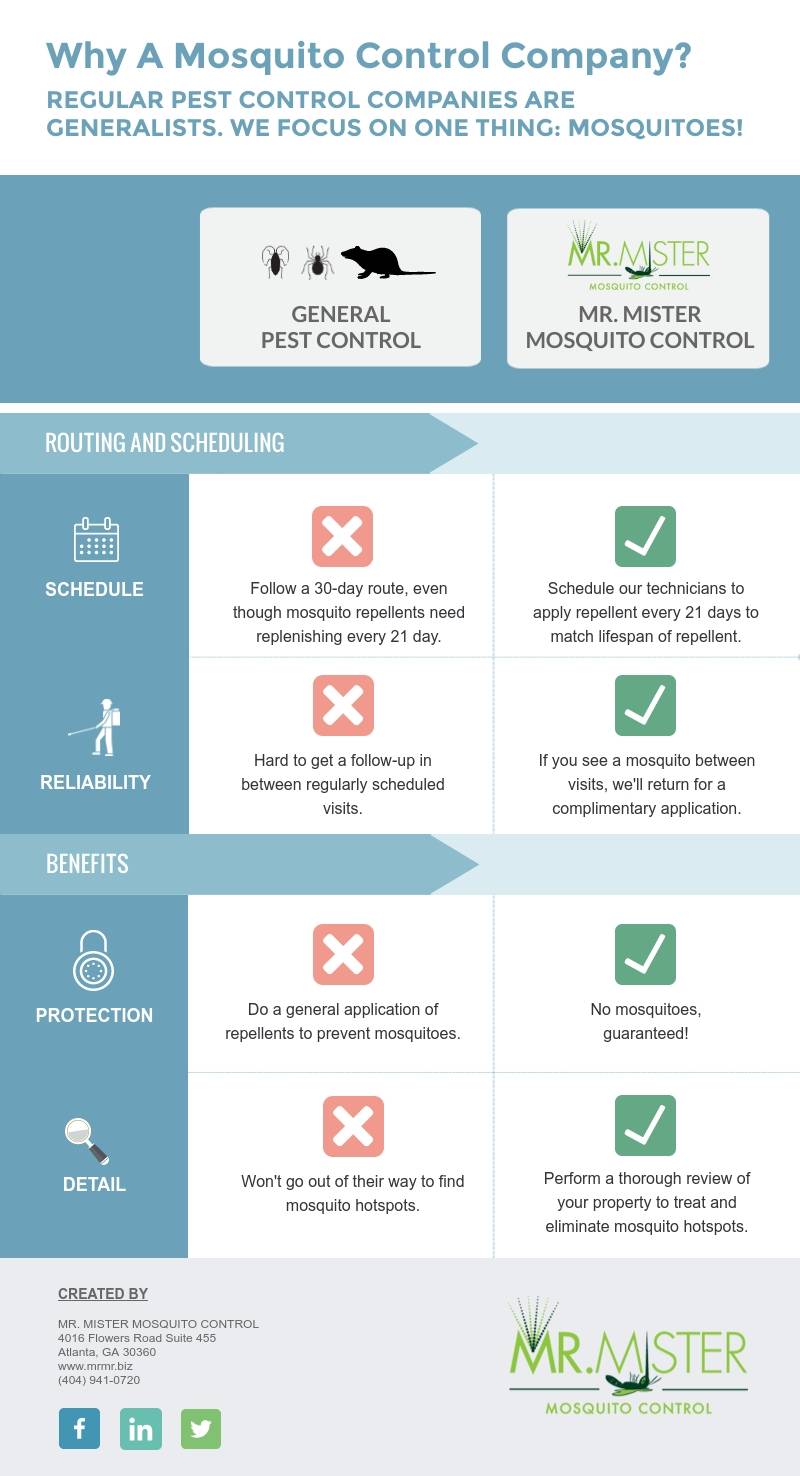 Generalists vs. Specialists
Regular pest control companies are generalists. They have general knowledge about different types of bugs and only carry the tools to treat the most common insects. Pest control is a necessary service, and we don't suggest you go without. But general pest control companies just aren't equipped to handle some species.
Mosquitoes are a great example of a particular species of insect that needs to be treated in a specific way. General pest control companies treat for mosquitoes every 30 days. That's even though companies that manufacture mosquito control solutions advise that their products only last 21 days. The reason they do this is that pest control companies base their schedules on a 30-day route system, rather than the lifespan of the specific products that they use. For most bugs, 30 days works, but not for mosquitoes.
We treat our members' yards every 21 days because that's what it takes to keep you mosquito free. We also offer an incredible automated system which we can install at your home. This system is the next step in complete mosquito control and gives you automated as well as on-demand mosquito control, without return visits.
A Company That "Gets" Mosquitoes
We get it. We understand mosquitoes and what it takes to beat them. Pest control companies just aren't specialists. It's not in their job description. They also cannot and do not spend time walking around your yard, searching for areas that attract mosquitoes. Mr. Mister technicians are trained to find and treat mosquito hotspots. We look for holes in trees, yard debris, gutters, and areas where standing water exists. Then we treat those areas and make recommendations to keep your yard mosquito free.
At Mr. Mister Mosquito Control, we are experts at one thing, getting rid of mosquitoes, the biggest threat and nuisance in your backyard.
When you call Mr. Mister Mosquito Control, rest assured you are calling a company dedicated to making sure its members enjoy the outdoors without sharing space with mosquitoes.  For an analysis of your yard by a real mosquito control expert, contact Mr. Mister Mosquito Control. We've got you covered.