Halloween Safety Tips from Mr. Mister!
This week is Halloween, and your kids are eager to put on their costumes and join friends on the hunt for the neighborhood with the best candy. Unfortunately, this year they will be joined by another group on the hunt: mosquitoes! Most years, by the time Halloween rolls around, the mosquitoes are long gone. But an unusually warm autumn has led these annoying pests to stick around. So before you let your kids out to ransack your neighborhood for sweet treats, follow these Halloween safety tips from Mr. Mister to keep your kids safe.
Safe Costumes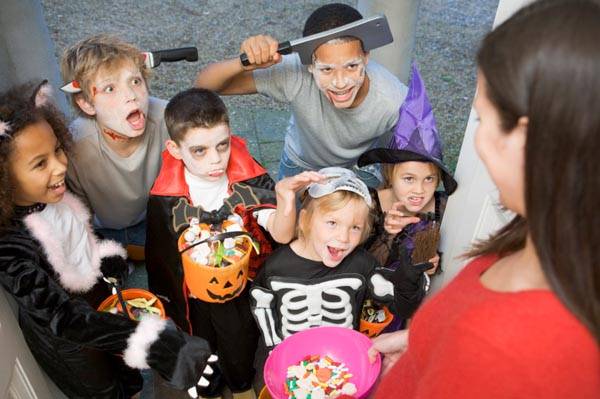 Make sure princess dresses won't be tripped over, and superhero masks have good visibility. Also, make sure that your costumes are secure from mosquitoes. Evening time is often the most active period for both trick-or-treaters and mosquitoes.
If your children's costumes leave their arms, legs, or bellies uncovered, consider wearing a long-sleeved shirt underneath. It will be warm this year, so if long sleeves are out of the question, make sure you use mosquito repellent.
The best repellents contain DEET, but make sure that you use no more than a 30% concentration. A good alternative to DEET is any repellent containing Picaridin. Just check the warnings on the label to make sure the repellent is safe for children. Follow the directions and don't overuse the repellent.
Lighten Up
Many Halloween costumes use dark colors that are hard to see at night. Make it fun by using glow in the dark necklaces or bracelets to make it easier for motorists, and you, to see where your kids are.
In addition to safety, there's another good reason to go with light-colored costumes. Mosquitoes don't have great eyesight, so they often look for targets by catching their dark silhouettes. Light clothing makes it harder for mosquitoes to spot you. So bring on the mummies and ghosts!
Walk Safely
Remind children of proper street-crossing safety. They should always stop, look both ways, and listen for a car before crossing. You may even want to make a rule that they must hold your hand before crossing, especially for the really little ones.
As your kids get older, they may want to go off with their friends to trick-or-treat on their own. But even if they are old enough to go without an adult, make sure your older children use the buddy system. For the safest trick-or-treat, encourage older children to move in groups. Remind them to not go off by themselves and never to leave a friend behind.
Also, be aware of areas that attract swarms of mosquitoes. Avoid standing water, like ponds or even large puddles. Tall grass is another common hiding place for mosquitoes. Encourage children to stick to streets and sidewalks. Don't walk through bushes or tall grass, even if it might be a shortcut.
Protect Your Home from Monsters (& Mosquitoes)
The best way to protect the trick-or-treaters who come to your home is to keep your home mosquito-free. Contact Mr. Mister now to get in one last treatment before the ghosts and ghouls show up! That's right. We usually don't treat homes this late, but due to the warm weather, we are offering a limited number of treatments in late October and November. Service is limited, so contact us today!