Our company is built on a commitment to customer satisfaction. We don't just keep your home, yard, or backyard mosquito free, we keep our customers worry free as well. That's why we offer regular mosquito control treatment as well as installed automated mosquito misting systems. Whichever you choose, you can rely on us to keep the mosquitoes away. In fact, if you even see a single mosquito in-between your regularly scheduled mosquito yard treatment, we'll come back and spray again for free, no questions asked. So don't hesitate and call now to banish mosquitoes from your Marietta property today.
Watch The Video Below To Learn More About Our Marietta Mosquito Services
Why Choose Mr. Mister As Your Marietta Mosquito Company
Our Marietta mosquito control service is designed to keep mosquitoes away through the use of our mosquito barrier spray technology. It's important to keep biting insects at bay as they can transmit infectious diseases such as Malaria, Zika virus, Dengue fever, Yellow fever, West Nile virus, Chikungunya, and more. This is where we come in. Our mosquito spraying services, mosquito fogging services, mosquito misting systems, or mosquito yard treatment provides the most effective and convenient way to keep your yard, home, or backyard free from biting insects.

Benefits Of Our Professional Mosquito Control Service
There are lot of Marietta mosquito control companies out there but only Mr. Mister offers:
Marietta's mosquito experts
Guaranteed mosquito relief without exception – 100% Satisfaction guarantee
Effective and reliable service 7 days a week
Industry leading customer service
Consistent 5 star reviews on Google, Yelp, Facebook and Kudzu
Licensed and insured professionals
100% Organic & Natural mosquito solutions available (safe for people, pets, and plants)
Monthly Payment Plan that keeps you on an automated schedule for service
Tanked and Tankless Automated Misting System options available
3-year warranty on our misting systems
Lifetime warranty on nozzles, tubing and labor*
On-demand mosquito spraying options
Also helps keep away flies, gnats, wasps, ticks, fleas, and spiders
Industry leading with 500+ 5 star reviews
Peace of mind backed by Guaranteed Results
Click To Call & Be Mosquito Free
Mr. Mister In The Marietta, Georgia Community
Marietta is a city with a sense of history. From its antebellum roots to its many historic sites, Marietta residents enjoy a historic city full of modern amenities. Downtown Marietta is the site of several cultural productions and outdoor events, including a weekly farmers' market. Whether you are enjoying Marietta Square or taking in some more recent history at the Big Chicken, you can't be held back by pesky mosquitoes. So when it comes to protecting your Marietta home or business, you want a mosquito control company with integrity.

Local Partnerships – Our Way Of Giving Back
Mr. Mister also forms partnerships with local schools, non-profit organizations and other local community groups to ensure that your outdoor activities are mosquito-free. A proportion of the payments made by individual customers is paid into the program to help individual organizations achieve their community objectives.
Outdoor Mosquito Control Treatment At Group Rates
We offer neighborhood group programs that include group pricing discounts and complimentary service of common areas. When more neighbors participate, you improve protection in your residential area as well as save money.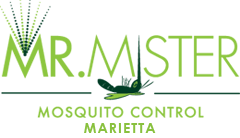 Additional mosquito control near me Marietta, Georgia
Zip codes 30008, 30060, 30061, 30062, 30063, 30064, 30065,
30066, 30067, 30068, 30080, 30090, 30152