* Free Quote (404) 941-0720 * Guaranteed Results * 100% Biodegradable
For residents in Decatur pest control and specifically mosquito control, is a must, as Georgia is one of the top states in the country for insect populations. This poses a serious risk to residents as mosquitoes can transmit infectious diseases such as Malaria, Zika virus, Dengue fever, Yellow fever, West Nile virus, Chikungunya, and more. This is where Mr. Mister comes in, our mosquito spraying services and mosquito misting systems will clear up your backyard or yard from all those pesky pests. Our mosquito control solutions provide the most effective and convenient pest control management of biting insects.

Why Choose Mr. Mister As Your Mosquito Company

Fully automated custom misting system

Each residential misting system is built by our licensed and insured professionals

Only company to offer Lifetime Warranty on System Parts and Labor*

100% Satisfaction Guarantee

Easy to use remote control for on-demand mosquito spraying

100% Organic solutions available

Tank and Tankless Automatic Mosquito Control Misting System options available

Our MPP (Monthly Payment Plan) automates service and refill schedule, includes winter and de-winterization and our No Hassle Lifetime Warranty
Get A Quote! or Call: (404) 941-0720
The Best Mosquito Control Services For Schools, Vets, and Parks
We offer neighborhood group programs that include group pricing discounts and complimentary service of common areas. When more neighbors participate, you improve protection in your residential area, decrease vehicle traffic and increase your savings. Our Automatic Misting System and ClearZone™ Misting services help keep away mosquitoes, flies, gnats, wasps, ticks, fleas, and spiders. We also offer mosquito fogging services, please inquire to learn more.
Local Community Fundraising Programs
Mr. Mister partners with non-profits, schools and other groups to provide fundraising opportunities. We donate a percentage of the total contract value of each customer who signs up through this program back to the organization.
Mr. Mister In The Community
Decatur offers a traditional small-town atmosphere along with all the benefits of living in a major metropolitan area. Great restaurants and shops line the streets; downtown Decatur is quaint and inviting, while heavily wooded neighborhoods offer a secluded feel to residents. Active living is a huge part of the lifestyle! Backyard entertainment with friends and family is a given all year around due to the mild climate but also attract mosquitoes and other insects that make outdoor entertainment a challenge. Our fully trained professionals will personally maintain your mosquito yard spray and provide fast pest control service. We are happy to help the community make sure that love of the outdoors doesn't bite back.

Get A Quote! or Call: (404) 941-0720

We service the following zip codes in Decatur Georgia:
30030, 30031

Quick Navigation Links
1. Why Choose Mr. Mister
2. In The Community
3. Fundraising
Additional Benefits:
Outdoor Mosquito Control
Mosquito Prevention
Backyard Mosquito Control Protection
Leading all other companies with 300+ 5 star reviews
Peace Of Mind + Guaranteed Results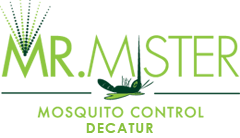 Additional mosquito control near me: