Many Decatur residents believe that mosquitoes are a fact of life in the warm, humid southern summers. But Mr. Mister can make your home or business mosquito-free all season long!
How do we do it? When you sign up for our ClearZone™ Mosquito Treatment, a Mr. Mister mosquito control specialist will visit your property about every 21 days to apply our special 100% biodegradable mosquito control solution. The solution is safe for people and pets, but it's deadly for mosquitoes and mosquito larvae.
Looking for even more convenience? Why not try our automatic mosquito misting system. We'll install a sprinkler-style system in your garden or lawn. It will hide discreetly among you foliage, and it will release a fine mist of mosquito control solution when mosquitoes are most active. You'll never see a mosquito at your home or business again.
Why Choose Mr. Mister As Your Decatur Mosquito Company

Top rated and trusted mosquito experts
Guaranteed mosquito relief without exception – 100% Satisfaction guarantee
Effective and reliable service 7 days a week
Industry leading customer service
Consistent 5 star reviews on Google, Yelp, Facebook and Kudzu
Licensed and insured professionals
100% Organic & Natural mosquito solutions (safe for people, pets, and plants)
Also helps keep away flies, gnats, wasps, ticks, fleas, and spiders
Monthly Payment Plan that keeps you on an automated schedule for service and refills.
Only company to offer Lifetime Warranty on System Parts and Labor*
Tank and Tankless Automatic Mosquito Control System options available
Leading all other mosquito companies With 500+ 5 star reviews
Click To Call & Be Mosquito Free
Watch The Video Below To Learn More About Our Decatur Mosquito Services
Mosquito Control Spraying Services For Groups
We offer neighborhood group programs that include group pricing discounts and complimentary service of common areas. When more neighbors participate, you improve protection in your residential area, decrease vehicle traffic and increase your savings.
Local Community Fundraising Programs
Mr. Mister partners with non-profits, schools and other groups to provide fundraising opportunities. We donate a percentage of the total contract value of each customer who signs up through this program back to the organization.
Mr. Mister In The Decatur, GA Community
Decatur offers a traditional small-town atmosphere along with all the benefits of living in a major metropolitan area. Great restaurants and shops line the streets; downtown is quaint and inviting, while heavily wooded neighborhoods offer a secluded feel to residents. Active living is a huge part of the lifestyle! Decatur is also a city steeped in history. From Clairemont to Ponce de Leon and from Downtown to the Agnes Scott neighborhood, residents enjoy a beautiful setting, full of historic building and homes. And what would make these historic homes even more enjoyable? If they had no mosquitoes of course!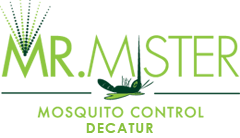 We service the following zip codes in Decatur Georgia:
30030, 30031
1. Why Choose Us
2. In The Community
3. Local Programs
Additional mosquito control near me:
Marietta, GA