Should I Worry About Zika in 2018?
2017 saw a dramatic drop in Zika cases compared to 2016, but the ongoing threat level varies depending on which experts you ask. Back in June of 2017, the Center for Disease Control and Prevention lifted the last of the travel advisories for Miami-Dade County. But some experts worry that there will still be localized flare-ups, and it's hard to know when or where they will occur. So it's unclear whether we still need to worry about Zika.
Experts Disagree About the Ongoing Threat of Zika
Zika was at its worst in late 2015 and early 2016—summertime in the Southern Hemisphere and peak season for mosquito activity. Inf February of 2016 the World Health Organization declared Zika a public emergency in Brazil as Zika diagnoses began to spread throughout South and Central America, as well as the Caribbean.
After the initial flood of infections, the spread of Zika slowed. By November of 2016 the World Health Organization declared that Zika was no longer a public health emergency. Nevertheless, cases continued to be diagnosed and the threat to pregnant women and women who may become pregnant was considered significant.
But during the summer of 2017 (in the Northern Hemisphere), cases of Zika dropped precipitously. Experts could not agree on the reason, but the drop was welcome relief for a U.S. population that had been worried of a full scale outbreak in the United States.
As we move into 2018 and look forward to another mosquito season, experts are divided on the ongoing threat level from Zika. Some, such as Neil Ferguson, a mathematical biologist at Imperial College London, predict no significant recurrence of Zika for at least a decade. Others, including Ira Longini, a biostatistician and disease modeler at the University of Florida in Gainesville, disagree. He warns that there are still populations that were not hit by the first wave of the disease and remain vulnerable. He predicts localized flare-ups, although exactly when and where is hard to know.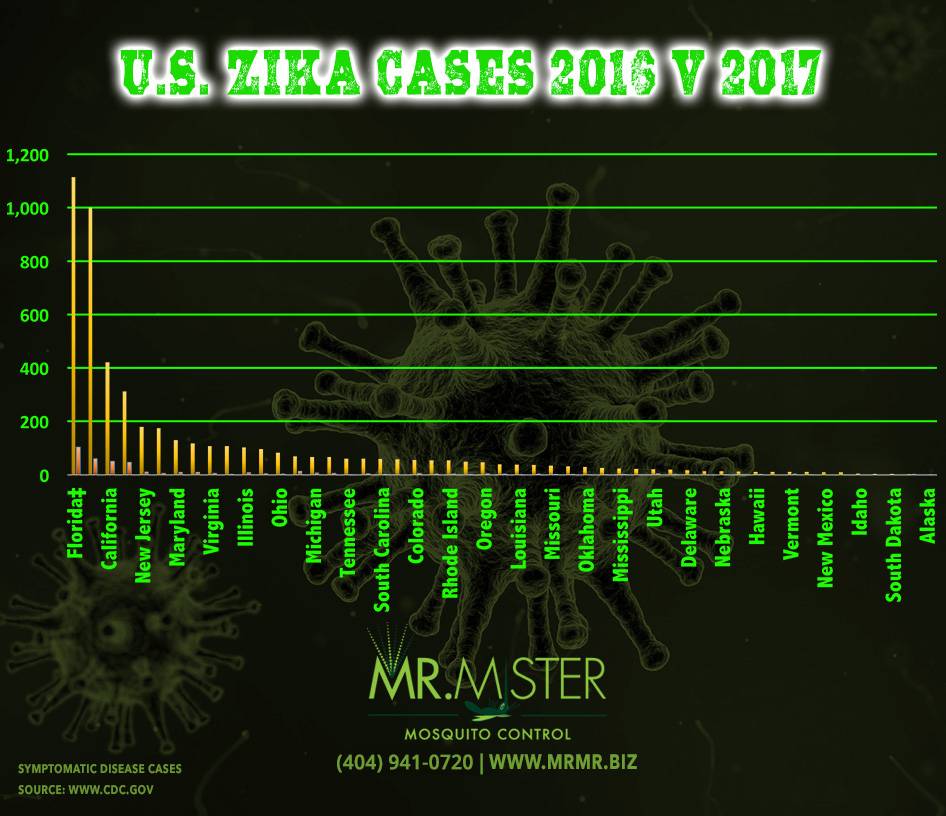 Should I Worry About Zika if I'm Not Pregnant
According to the CDC, many people who are infected with Zika have no symptoms or have very mild symptoms lasting only a few days. The largest threat of Zika is in pregnant women. An active Zika infection during pregnancy can result in microcephaly and other severe fetal brain defects.
However, the lack of symptoms in most people does not mean that there is no concern if you are not pregnant. Men who have been to active Zika regions are recommended to wait at least 6 months after returning before attempting to conceive. Women are recommended to wait 8 weeks. The large difference is due to how the body carries the virus. It lasts much longer in semen than other bodily fluids.
Another danger is that even if you don't plan to conceive, a person who has Zika runs the risk of infecting others. The virus is most commonly spread by the female Aedes aegypti mosquito, which must feed on blood to lay her eggs. When an infected individual is bitten, the mosquito can pick up the virus, and when it bites someone else, the virus can be transmitted.
So while there is little direct danger to a person who is not pregnant, the risk of transmission and spreading the disease should be of concern to all people.
One of the best ways to avoid transmission is to avoid mosquitos altogether. By creating a mosquito-free zone around your home, you can protect yourself, your family, and your friends from mosquito borne illnesses while they enjoy your outdoor spaces. Find out how here.
Traveling to Mexico While Pregnant in 2018
As of late November in 2017, Mexican authorities had confirmed just over 2,700 cases of Zika infection during that year. While the Center for Disease Control and Prevention acknowledges that there is some risk of Zika in Mexico, there are no current travel advisories for the country.
Mexican continues to work against the spread of Zika with public service announcements, educational campaigns, and a limited number of preventive travel advisories within the country. Still, the World Health Organization that there should be no restrictions on travel or trade with areas of Zika transmission.
Pregnant women face many choices about how to best keep themselves safe during pregnancy. However, a travel ban on Mexico has not been suggested. Pregnant women, as well as people who are neither pregnant or planning to become pregnant, should be still be careful. They should take reasonable precautions against mosquitoes, such as using repellents and netting, but the threat remains low.
Zika Versus Dengue
Health authorities face some unique challenges trying to track Zika. It is very similary to two other mosquito borne illnesses, the dengue virus and chikungunya. Both diseases are transmitted by A. aegypti, the same species of mosquito that carries Zika. They are also both endemic to Latin America and the Caribbean. The antibodies of those two diseases are so similar to Zika antibodies that standard tests cannot tell the difference. This makes that tracking the disease is very difficult. It is hard to know how many cases are true Zika infections and how many are dengue or chikungunya.
Zika Versus West Nile
Zika became famous as a public health emergency in the last few years. But West Nile virus was already an annual concern in the entire Continental United States. It was once common for states and municipalities to collect dead birds to test for the presence of West Nile. But the virus is by now well established in all 48 continental states and District of Columbia. So many authorities have shifted resources and staff from testing to other areas of West Nile control.
Most people who are infected with West Nile will have little or no symptoms. About 1 in 5 people who are infected will develop a fever and some mild symptoms. About 1 in 150 people infected will develop serious, possibly fatal, illness, such as meningitis or encephalitis.
Preventing West Nile Virus
The best way to avoid West Nile virus and other mosquito borne illnesses is to control mosquitos. You can reduce populations and avoid mosquito bites. Many municipalities and local governments make some efforts at mosquito control. But mosquito control at home is still the best way to ensure you are safe in your own backyard.
Mr. Mister has multiple options for controlling mosquito populations around your home. The first option is our ClearZone mosquito misting service. With this service, one of our team members will come to your home and spray outdoor areas and foliage. We spray with a 100% biodegradable solution. The solution sticks to the underside of your foliage and prevent mosquitoes for 21 days. We also treat standing water, drains, downspouts and other areas that attract mosquitoes and their eggs. The special formula also inhibits reproduction, reducing the future population of mosquitos. Our ClearZone mosquito misting service is guaranteed to provide a mosquito-free zone around your home for a full three weeks. After three weeks we will return for another treatment.
Another option for full time mosquito control is an installed mosquito misting system. The system will spray your backyard, garden, and other outdoor spaces on a regular daily schedule. Our technicians can install and automatic misting system in a home that is still under construction or an existing home. The system is almost completely hidden among your landscaping. Most pipes will run along fences or other discrete areas, keeping your misting system out of site.
The automatic misting system—both tank and tankless systems are available—will spray your yard at dawn, dusk, and evening hours. That's when mosquitoes are most active and when other beneficial bugs, such as pollinating butterflies and bees, are least active. Our systems also come with a lifetime warranty on service and labor, so you know that you have nothing to worry about. Just ask our satisfied customers and they will tell you that our team is the best when it comes to mosquito control in and around Atlanta.
For a full list of services, click here. And be sure to contact us today to start your own personal mosquito-free zone.