Mosquito Barrier and Mr. Mister Mosquito Control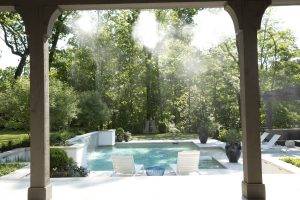 By employing a mosquito barrier using the Mr. Mister mosquito control system, you can create a mosquito-free zone around your yard. A mosquito barrier is an area in the vicinity of your home through which mosquitoes find it difficult to penetrate and still remain alive. Fundamentally, it is based upon the fact that when mosquitoes invade your yard, they do not just suddenly rush in. Like any other predator or creature seeking sustenance, they first rest and wait until a trigger activates them.
They tend to settle down on the surrounding foliage and then attack only once they detect the carbon dioxide from your breath, your perspiration and/or your body heat. Any one of these is sufficient to make mosquitoes rise and attack you. A mosquito barrier involves treating surrounding foliage with a fine mist of insecticide that eradicates these ferocious pests and their larvae, not just before they reach you, but before they even sense you!
Mr. Mister Mosquito Control System
Mr. Mister mosquito control system offers an extremely effective method of managing mosquitoes in your yard and all areas around your home. It creates a mosquito barrier by repelling mosquitoes and other flying insects and destroys those that persist in trying to breach this barrier.
It involves the installation of a system of pipes and nozzles that are connected to an insecticide solution specifically designed to control mosquitoes. It will also control wasps, hornets, fleas, ticks and gnats, thus making your garden and yard more comfortable for yourself and your pets. Because the mist is fine, it takes time to settle and can penetrate areas where mosquitoes like to hide more effectively than regular mosquito sprays.
The Mr. Mister Mosquito Control System is automated to spray at specific times of the day when mosquitoes are most active. This is normally at dawn, dusk, sunset and evening. They tend not to come out at night, and particularly not in hot, dry afternoons when their bodies can be dehydrated.
The Benefits of a Mosquito Barrier
The main benefit of a mosquito barrier is that it keeps mosquitoes out at those time you are yourself most likely to be out enjoying your yard – for a barbecue, family get-together or even just to sit out relaxing with a book.
If you prefer the spraying not be automatic, because sometimes your mosquitoes may be active when the mist is not, then you can also have a remote control to activate the mosquito barrier. Not only that, but your system will be built specifically for your yard, to meet your specific needs.
Mosquito Barrier Guarantees
The Mr. Mister Mosquito Control System is a professional installation that comes with guarantees to set your mind at rest. We offer:
A mosquito control system built for you by insured and licensed professionals.
The option of using 100% organic solutions.
A 100% guarantee of satisfaction.
Mr. Mister offers a Monthly Payment Plan for an automated service with a refill schedule; winterization and de-winterization and a No Hassle Lifetime Warranty.
You will find a mosquito barrier to significantly improve your enjoyment of spending the summer months in your yard. Whether you are enjoying a swim in the pool, a BBQ with friends or are just lazing about or doing some gardening, the mosquito barrier provided by the Mr. Mister Mosquito ControlTM system will keep you free from bites. Guaranteed!
For more information on how to set up your own mosquito barrier and protect your home, your loved ones and yourself from mosquito bites:
• Call Us on (404) 941-0720 or
• Get A Quote!