Problems With Mosquitoes? Mr. Mister Mosquito Control Can Help
Many people in Atlanta have problems with mosquitoes – but if you are one of them, then do not worry.
Mr. Mister is based in Atlanta, and mosquito control is our bread and butter.
Shout "Mr. Mister" at any mosquito in Atlanta and it will fly away in fear! They know us too well!
Seriously though, 
Many people in Atlanta do have problems with mosquitoes, and these can be serious problems if they have children in the family.
If this is you, and you have children who perhaps like to spend a lot of time in your backyard playing or even trying to do their own barbeque just like mommy and daddy do, then make sure they are protected.
Mosquitoes cannot tell the difference between babies and their grandparents, other than the scent signals they are getting.
It is extremely important that you protect your little ones and pets just as you protect yourself.
Just be careful that your children are protected adequately – but not too adequately!
Too much of a good thing is not good, and neither is too much of a mosquito repellent.
Mr. Mister can help you with this and suggest the best solution to your problems with mosquitoes.
Mosquito Control Options
You have several options that can help you control mosquitoes in your backyard.
Many people who have problems with mosquitoes are unsure of the best way to handle them – particularly if they have young children or babies.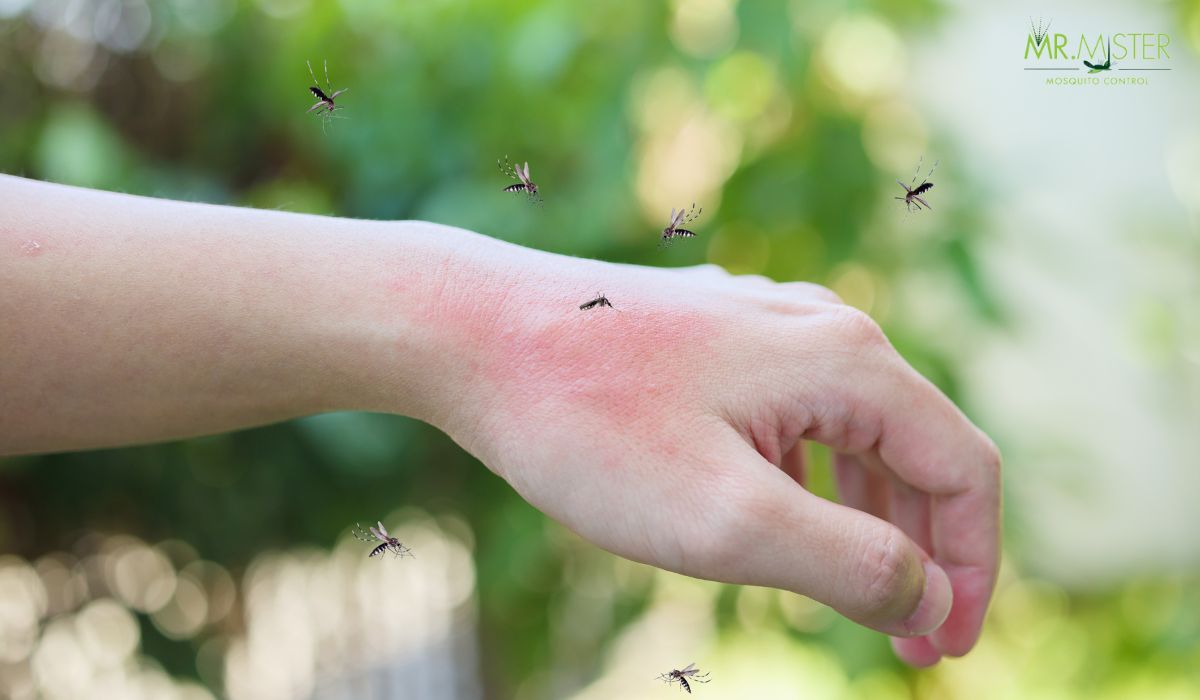 The worst thing you can do is to purchase a can of mosquito spray and squirt it onto everybody.
Some sprays are relatively safe while others present a definite risk to your children.
Rather than protect yourselves, you should keep your yard mosquito free.
Mosquito sprays last only so long, and when you believe yourself to be protected it is often likely that you are not.
The safest way to protect yourself is to:
Take action to remove mosquitoes from your yard and,
Once they are gone, make sure they cannot return.
You may think that this is difficult to achieve or perhaps even easy! Wrong in both cases – unless you put your problems with mosquitoes into the hands of the experts.
Resolving Problems With Mosquitoes
What we will do is to;
Survey your property and identify the areas where mosquitoes are likely to hide and to breed.
Take action to clean out all potential breeding areas: standing water in cans, old tires, fountains, bird baths, around drains and downpipes, in roof guttering and anywhere else water can lie still for several days – that is all it takes for eggs to hatch and mature to adult insects.
They can even breed in holes in your trees, holes around the base of your walls and fences and even in depressions around shrubbery and trees.
Mosquitoes have been known to breed in shoe heel depressions in your soil or lawn.
After cleaning them out, we spray all of these areas with a mosquito spray that is safe for your family.
In deep grass, below shrubbery and under the leaves of bushes, grass and trees where they tend to rest.
If requested, we will set up an automatic mosquito misting system to keep new insects from entering your property.
The best way to deal with your problems with mosquitoes is to get the assistance of mosquito control experts.
Mr. Mister can help you to resolve any mosquito problems using the steps detailed above.
We can work with you to eradicate existing populations and then prevent new populations of mosquitoes from breeding around your property.
We can repeat this whenever you feel necessary, or as stated above, install an automatic mosquito spray system.
This will spray the foliage around your home at preset intervals to make sure that new mosquitoes cannot enter your property and that existing ones are totally removed.
Problems With Mosquitoes? Why Have Them?!
Problems with mosquitoes should be a thing of the past for savvy homeowners.
Why have them when there are so many options available to deal with existing mosquito populations and prevent new ones from breeding.
Mr. Mister can look after all of this for you, so contact us using the details below:
Call Us:  (404) 941-0720
Contact Form: Contact Mr. Mister
Get a Quote: Get a Quote Here
Conclusion
In the battle against mosquitoes, residents of Atlanta need not fret any longer.
With Mr. Mister's expert mosquito control services, you can finally bid farewell to those pesky bloodsuckers and enjoy the outdoors without worry.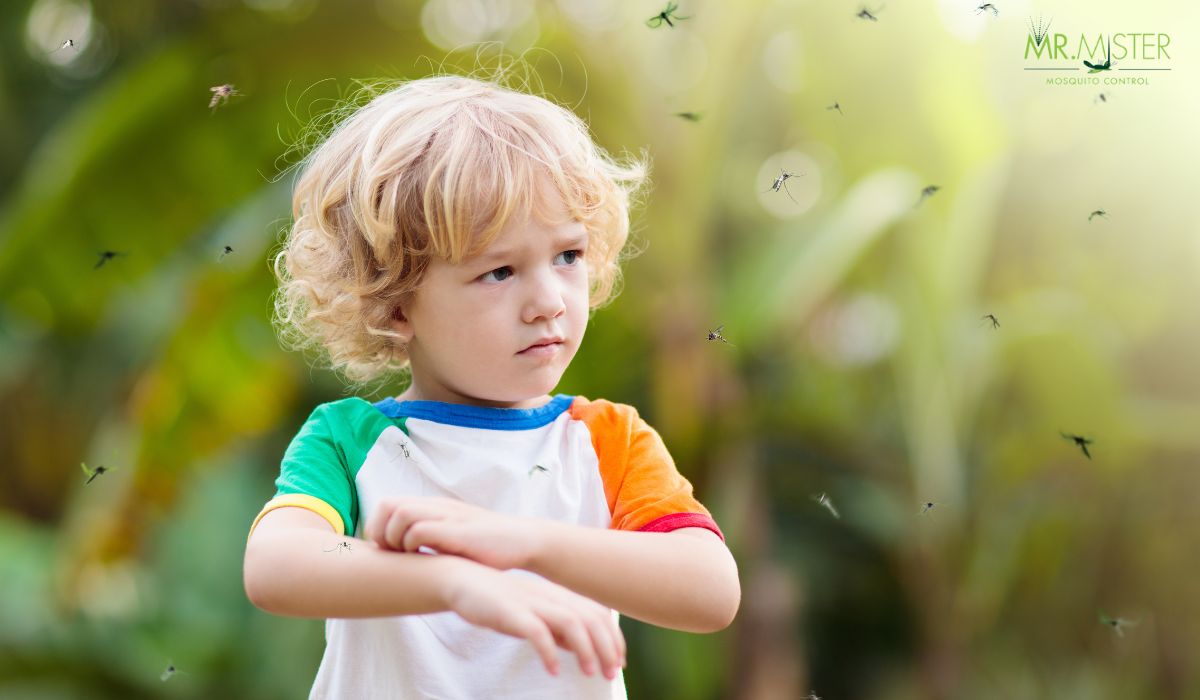 Mosquitoes may swarm, but they won't stand a chance against our specialized solutions.
FAQs
Are mosquitoes a common problem in Atlanta?
Yes, mosquitoes are prevalent in Atlanta, and they can be particularly troublesome for families with outdoor spaces.
How do I know if I have a mosquito problem?
Common signs include persistent mosquito bites, especially during evenings and mornings, and the presence of these insects in your outdoor areas.
Are mosquito control treatments safe for my family and pets?
Yes, Mr. Mister uses safe and approved mosquito control methods to ensure the well-being of your loved ones and furry friends.
How long does a mosquito control treatment last?
The duration of effectiveness can vary, but we offer customizable plans to ensure consistent protection throughout the mosquito season.
Is it necessary to have ongoing mosquito control, or can it be a one-time service?
Ongoing mosquito control is recommended to maintain a mosquito-free environment, but we can tailor our services to your specific needs.
What sets Mr. Mister apart from other mosquito control providers?
We combine expert knowledge, tailored solutions, and top-notch customer service to deliver comprehensive mosquito control that works.
Do I need to vacate my property during mosquito control treatments?
In most cases, it's not necessary to leave your property during treatments, as our products are safe for humans and pets.
How soon can I expect results after a mosquito control treatment?
You'll notice a significant reduction in mosquito activity shortly after treatment, with continued improvement over time.
Can mosquitoes transmit diseases in Atlanta?
Yes, mosquitoes can transmit diseases such as West Nile virus and Zika virus. Effective mosquito control helps mitigate this risk.