Everyone needs a little time for rest and relaxation. For many people, the weekend is a time to stop worrying about work and spend some quality time with the ones they love. Unfortunately, mosquitoes don't share your penchant for downtime. In fact, when you're ready to head out into your yard for some well-deserved time off is precisely when mosquitoes go to work feeding on you. That's why, at Mr. Mister, our response to mosquitoes works just as hard as they do, seven days a week. Your yard hosts 24×7 mosquitoes, so we've built a 24×7 mosquito control company.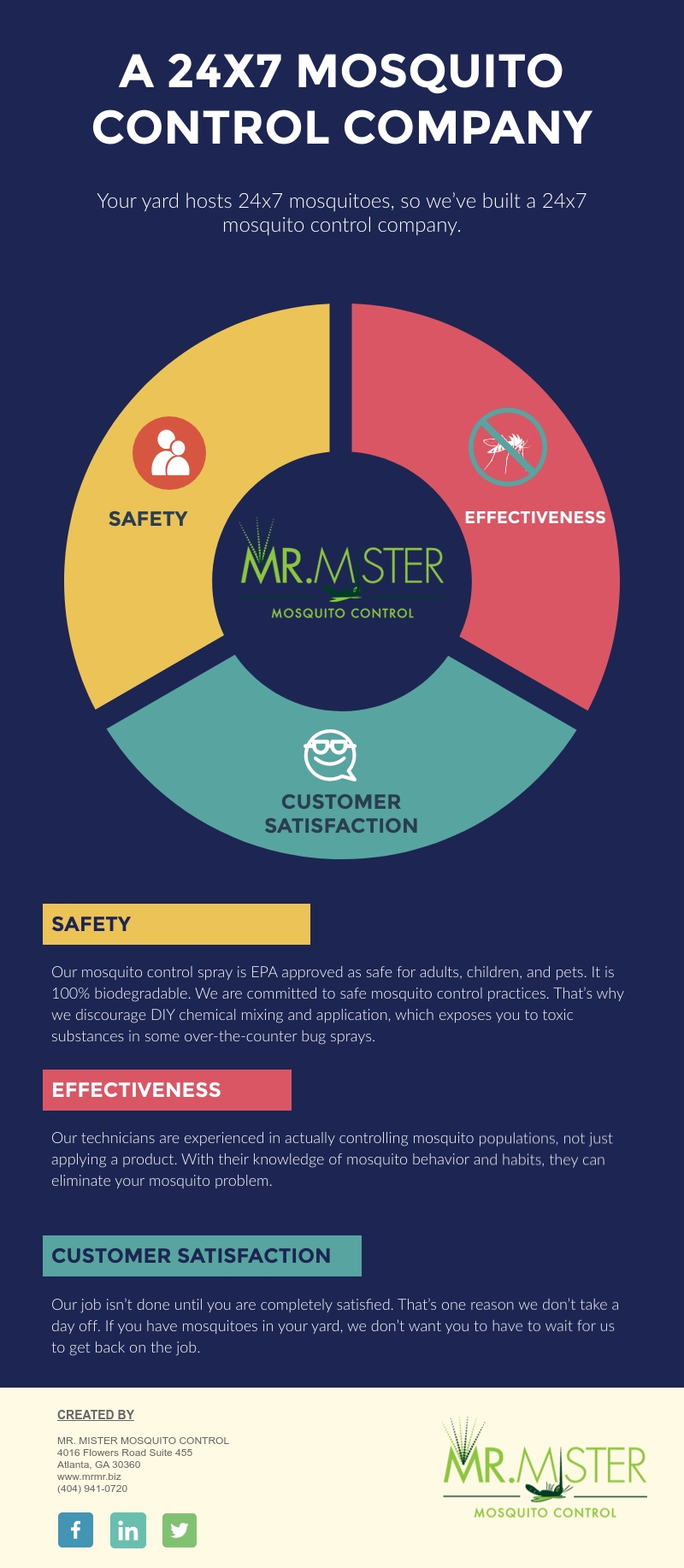 Weekend Services
Why are weekends so important to us as a mosquito control company? Weekends are when families are outside with the kids. Weekends are when you throw that summer barbecue for the whole neighborhood. Weekends are for weddings and parks and pools! And unfortunately, mosquitos do not sleep on the weekends.
The team at Mr. Mister Mosquito Control ensures that members are getting the best mosquito protection available. We base our service on safety, effectiveness, and customer satisfaction.
Safety – Our mosquito control spray is EPA approved as safe for adults, children, and pets. It won't leave any oily residue or unpleasant odor, unlike some of our competitors. Our solution is safe for the environment, too. It is 100% biodegradable. We also improve your safety and the safety of your pets by protecting you from mosquito-borne illnesses. Finally, we are committed to safe mosquito control practices. That's why we discourage DIY chemical mixing and application, which exposes you to toxic substances in some over-the-counter bug sprays.
Effectiveness – Our team is highly trained, and they don't just aim and spray. Instead, they are looking for mosquito hotspots. Our technicians are experienced in actually controlling mosquito populations, not just applying a product. With their knowledge of mosquito behavior and habits, they can eliminate your mosquito problem.
Customer Satisfaction – We know that our job isn't done until you are completely satisfied. That's one reason we don't take a day off. If you have mosquitoes in your yard, we don't want you to have to wait for us to get back on the job. We're local, and we're open seven days a week, so give us a call. We respond to every inquiry and service request within 24 hours, so you don't have to suffer. We're a 24×7 mosquito control company, and won't leave you hanging.
Availability 24 x7
We work seven days a week and guarantee a 24-hour response time. We want to make sure your home and your life is protected from pests, and that includes times that are not considered "normal business hours." Just give us a call any day of the week. We'll be there to get rid of the pests, fix a problem with your system, or re-spray your yard after a surprise rain shower.
If you're ready to start enjoying your yard sans mosquitoes, contact us for your free quote. We'll get back to you within 24 hours, even on the weekend.