Professional vs DIY Mosquito Sprays
Nobody loves mosquitoes, especially in their own backyards. So making the decision to treat your yard for mosquitoes and other pests is easy. When you consider all the benefits, spraying for mosquitoes seems like a great option. As we are fond of saying here is Mr. Mister, it's like creating a forcefield around your yard that keeps mosquitoes out. But why should you choose Mr. Mister to defend your home against mosquitoes? Here are 3 reasons why our mosquito service is better than a DIY yard spray option.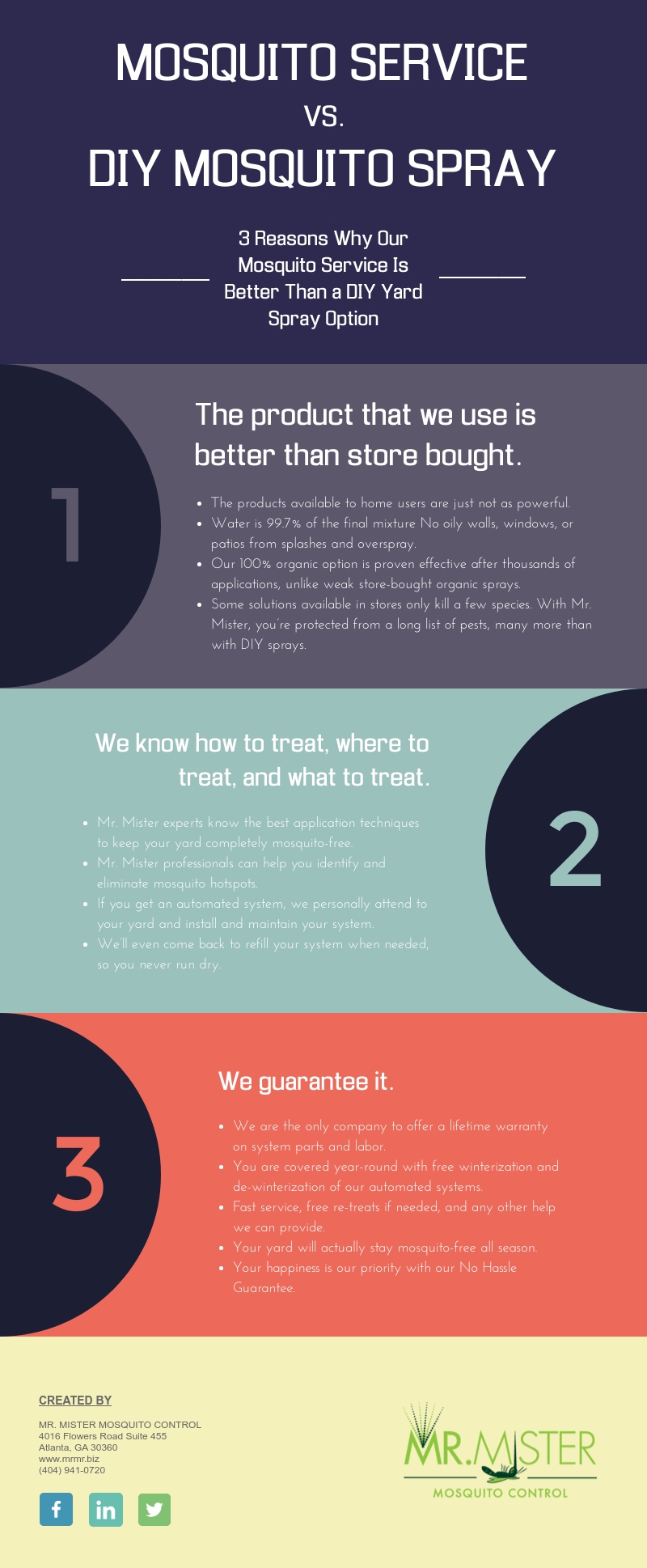 1. The product that we use is better than store bought.
The products available to home users are just not as powerful as the stuff the pros use. Beyond that, not every professional mosquito company or pest control company uses the same solution. Here at Mr. Mister, we stand behind our unique blend, which we know to be safe and effective.
Water is 99.7% of the final mixture in Mr. Mister's mosquito spray. That means no oily walls, windows, or patios from splashes and overspray. Store-bought solutions can leave marks on anything they touch, and some will even harm your home if it accidentally gets sprayed.
We have 100% organic solutions available. There may be some solutions available in stores that claim to be natural. Bust most organic and plant-based solutions you can buy are far less effective than the chemical stuff. Our 100% organic solution is proven effective after thousands of applications.
All our solutions are child and pet safe. Have you read the warning labels on some of the stuff you can get in stores or online? We would be scared to come close to that stuff. But Mr. Mister's solution is applied as a fine mist the quickly settles and sticks to foliage. Just one-half hour after spraying, your yard is completely safe for humans and pets. And it will stay protected for three weeks.
2. We know how to treat, where to treat, and what to treat.
Our fully trained professional employees (we do not use outside contractors) know how and where to spray. Anyone can rent or purchase a sprayer and just go at it. But Mr. Mister employees are experts who know the best application techniques to keep your yard completely mosquito-free.
We do more than spray. Sometimes, if your yard is too friendly so mosquitoes, spraying can be like turning on the a/c with the doors and windows open. Mr. Mister professionals can help you identify and eliminate mosquito hotspots. By making your yard less inviting to mosquitoes, you maximize the benefits of professional spraying.
If you get an automated system, we personally attend to your yard and install and maintain your system. With DIY automated misting, you have no support and no one to turn to. With Mr. Mister's automated spraying systems, we are there every step of the way, and we'll even come back to refill your system when needed, so you never run dry.
3. We guarantee it.
We are the only company to offer a lifetime warranty on system parts and labor. When you install an automated system yourself, you have no guarantee at all. Other companies may claim to guarantee their system's, but there's always a catch.
You are also covered during the winter months with free winterization and de-winterization of our systems.
Our team delivers fast service, free re-treats if needed, and any other help we can provide. With our service, you can be sure that your yard will actually stay mosquito-free all season.
Your happiness is our priority with our No Hassle Guarantee. Can you guarantee that doing it yourself will be hassle-free? We didn't think so!