Why You Need Mosquito Protection
The hot southern spring and summer are marked by abundant rainfall and near-constant humidity. The heavy tree coverage and extensive waterways create opportunities for recreation and outdoor fun all season long. But those conditions also pose the threat of insect-transmitted diseases. That's why you need mosquito protection in the Southeast even more than in other regions. With the implementation of an effective and robust mosquito control system, residents and their guests can enjoy a safer living space for their families and loved ones.
HotLanta
We live in the city we affectionately call HotLanta. The moniker is in part due to the good times and wild nights available in the capital of the South. But it's also true in the literal sense. For much of the year, temperatures can get hot and stay hot, even overnight. That creates great opportunities for locals and tourists to enjoy the outdoors. But it also attracts numerous pests, including swarms of mosquitoes.
Around the globe, pests and insects spread harmful and even fatal diseases that affect millions of people. The outdoor areas around our homes and our open living spaces offer the perfect habitat for these insects. They dwell and breed right outside our doors. We're all familiar with the painful sting of bees, wasps, and fleas; however, some flying insects do more harm than you might imagine. One such insect is the mosquito.
Female mosquitoes need the protein in blood to create their eggs. But their bite can spread germs and viruses that make you sick. International cases of mosquito-transmitted diseases such as the Zika Virus and Dengue call for an innovative mosquito control system. This is especially true for regions that are hot and humid, like the American Southeast. That's where you need mosquito protection the most.
With plenty of rivers and lakes, Atlanta's natural beauty is no secret. But among other territories like Central America and Brazil, it is also exposed to various insect-borne diseases. These diseases are no joke, as they raise serious health concerns. An extensive pest control system is necessary to address the threat and so that people can feel safe while they are out and about with family and friends.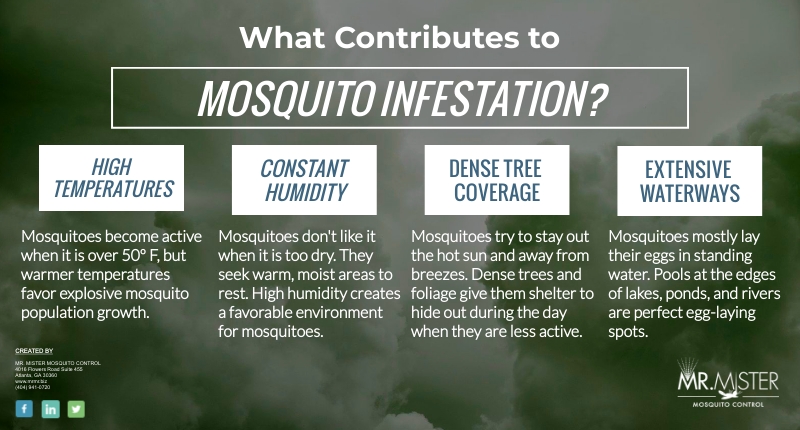 Staying Safe
You might not be able to eliminate diseases spread by insects, but you can definitely cut down on their causes. Through multiple safety measures, you can keep these diseases at bay. Families with lawns and gardens need to be extra careful because plants, pools, and ponds are incubators for mosquitoes. Eggs and larvae breed in stagnant water and damp leaf piles. You need to be meticulous about eliminating standing water and always keep an eye out for problem areas.
Many solutions to control pests and mosquitoes are available today, but not all are effective and, most importantly, safe. If you need mosquito protection, you may have tried sprays, repellents, traps, and coils. They might work for a while, but none are useful as a long-term solution. Meanwhile, pest control companies have been striving to develop a lasting and reliable solution for mosquito control. But few have succeeded.
Mr. Mister's Guaranteed Mosquito Control Solution
With our innovative approach, Mr. Mister has turned the idea of mosquito control upside down. Our automatic mosquito control system is a unique solution for keeping mosquitoes out of your yard. Managed by a team of certified and insured professionals, our system guarantees 100% results and customer satisfaction.
Mr. Mister's system sprays a fine mist of our proprietary solution through a network of small nozzles onto your foliage. The treatment creates an effective force field against mosquitoes. The solution is also 100% organic, so you don't have to worry about unwanted chemicals around your family and pets. With our unique blend, you can confidently invest in a mosquito control system that promises nothing but safety for you and those who matter most.
Conclusion
Cities that are hot, humid, and have extensive tree coverage and waterways are prone to insect-transmitted diseases. The implementation of a reliable mosquito control system is imperative to keep people residing in such cities healthy. When choosing your options, research the Mr. Mister website to learn about mosquito control systems and spray services. Enjoying your yard year-round is the payoff for going with a professional mosquito solution.
Contact Us Here or at:
Mr. Mister Mosquito Control
4016 Flowers Rd #400
Atlanta, GA 30360
(404) 941-0720